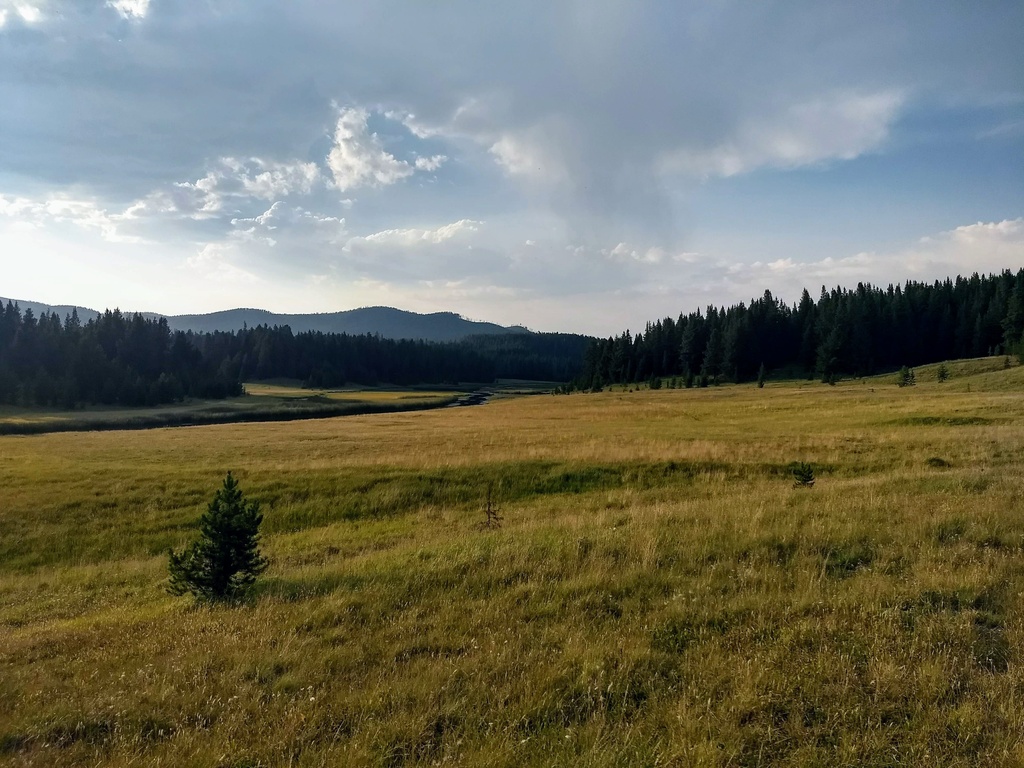 From the Winds, you hike up through the Bridger Teton National Forest up into Yellowstone. Here we diverged from the trail. As a group, we decided to take the the Big Sky alternate/Super Butte Alternate. We liked the idea we would get longer in Yellowstone, and we wanted to hike the sky rim trail and the Spanish Peaks Wilderness area. I know many people will now discount my blog and my hike, but we did what we did. The Spanish peaks were worth it.
Yellowstone was unfortunately my least favourite section. The trail was in bad condition, hot, dry and exposed. We came up the East side of Yellowstone River/lake and followed enormous, fresh grizzly tracks almost all day. The exception to the hot and dry were the massive wet meadows we hit on day two and three. These meadows were placed far enough apart that just as you'd think your feet were dry, you'd hit gross, oily, muddy marshy meadow again. So somehow we had both wet feet and serious risk of dehydration. The "campsites" were slopy, poorly signed and poorly organised, so the nicest spots to camp always seemed to be directly under the bear hang, and everywhere else nearby would be wet or on a 30degree slope. There is a lot of flat space in Yellowstone, so I'm not sure how it's possible we got so many sloping campsites, but there you have it.
Then, the North West corner of the park caught on fire just as we were heading up there, and the Rangers pulled us back. We couldn't even walk the road because the fire was literally metres from the edges of it as we got our hitch through there. So, sadly, we missed the sky rim trail, which I'm a bit bummed out about.