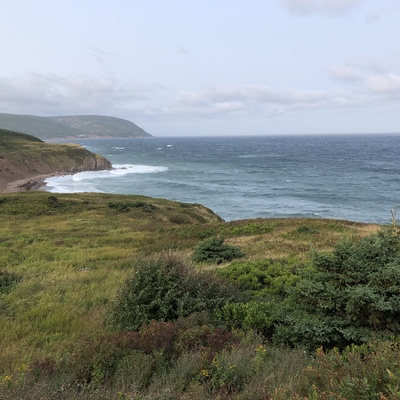 created Sep 22, 2020
Pollett's Cove, Cape Breton, NS
Every year in the hiking season from May to October I like to do a new-to-me hike; searching for one with a bonus factor - that might be longer distance, challenging elevation, spectacular location and beauty, special hiking companions, etc.
With all the Covid circumstances of this 2020 season: for me this also included two 14-day self-isolation periods after family visits and returning to the Maritime bubble where I live - September 1st arrived and I still hadn't done 'the hike'. And I didn't have one planned!
The inspiration came from a hiker on FaceBook. I've done a few hikes in the Cape Breton Highlands, but hadn't previously heard of Pollett's Cove. A quick Wiki search: "Pollett's Cove is a wilderness estuary on the northwest coast of Cape Breton Island, Nova Scotia. It is accessible only by boat or on foot via an arduous 10 km hike along the coastline from Pleasant Bay, heading north."
A search for Pollett's Cove in my AllTrails App was the clincher.
I was in. So was Janice, a friend with whom I've logged many miles and with compatibility in energy and enthusiasm.