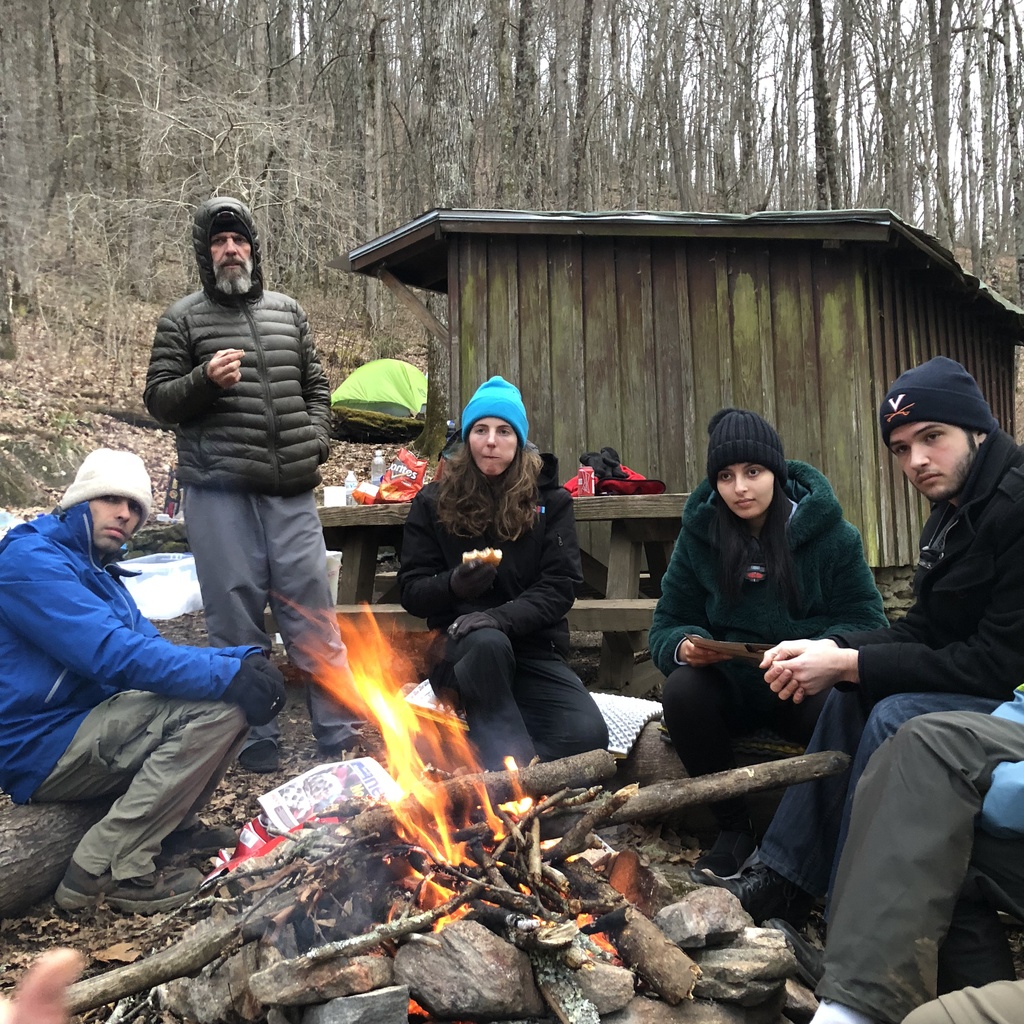 Today I am on my second zero at the Aquone Lodge, having come off the trail at Burningtown Gap mile 123.8 because of impending cold weather. With a mix of rain and snow and high gusts of wind— it seemed the prudent thing to do. This is straight up deep winter in the mid-teens for temps and most of us are packed for three-seasons. I can do cold weather with my gear but too many days out in the wet conditions makes staying warm difficult.
I have been trying my best to stay off of social media on the trail with the exception of posting a photo to my FB story about once a day to stay in touch. I am very pleased with the new lightweight inexpensive keyboard that I purchased to pair with my IPhone. This has made it feasible to update my trail journal while at hostels off the trail.
On the trail is where I do all my contemplation and when you walk all day without distractions like podcasts, audiobooks, social media, etc.—thinking is your main activity. Living inside your own head and being aware of your thoughts takes more discipline than you might think. It is very much like meditation only with walking added. The struggle of the trail tends to push negative thoughts and emotions out of the way as you concentrate on staying upright with your pack and hiking poles.
Something that I thought a lot about in recent miles on the trail is my ability to listen to others. While I am aware of active listening and have been to various management course; this is an area that bears further development. My passion for certain topics and my sincere desire to help others with my expertise in those topics makes me vulnerable to jumping into a discussion and adding too much to the conversation. So on the trail I have thought about this a lot and hope to try harder when I come across other hikers. In my next post, I want to talk about functional fitness and low carb high fat fueling on the trail. Maybe it is best to write about my ideas here rather than talking so much. One of the hardest things for me to remember is that no matter how much you want to help others—you can help those who don't want your help! So more listening and more writing for those who are interested.
Ass for actual on the trail stuff—let me explain the photo. Trail magic is this amazing thing that members of the trail community do for those of us out here on the trail. We call them "trail angels" and we are truly blessed by their generosity both in time and kindness . At Rock Gap, a former thru hiker "Circus" and several of his friends brought us many goodies and cooked hamburgers and hot dogs on a grill! They had to carry all the food, the grill, coolers and all sorts of things up the trail to us. Then they even brought tents and spent the night with us. One of us had to return to Franklin to pick up gear and then even drove her to town the next day. The trail community is really a karma-based community. It reminds me so much of my mother who used to say, " you never miss anything you give away; it comes back to you double." On the trail, we say "the Trail provides" and we have found that to be true. We share food, gear and support and somehow it all works out.
Signing off for now. In case you are interested, go over to my GoFundMe where I am raising funds for a project to filter water in Liberia. We hikers know how hard it is to carry all your water everyday! It's a daily reality for many families in rural Liberia. Even if you don't donate I would be so pleased to have you just read about the project for its interest. GoFundMe.com/cleanwaterforliberia